Snail mail or email coupons for essentials from the drug store or upcoming sales
Help them save money on products they use every day (or hopefully every day), from soap to deodorant.
Order a birthday cake from a local bakery that they can share with friends
Make their first (or fourth) birthday away from home special.
 If you're close by, take them out during stressful times (or let them charge a meal on your credit card if you can't be there in person)
Best times for this one would be during exam weeks, in the dead of the winter, or

during a holiday (if they're not coming home).  
Send a funny or warm greeting card (via snail mail) to keep them motivated
Homesick freshmen or juniors studying in foreign countries would be perfect candidates.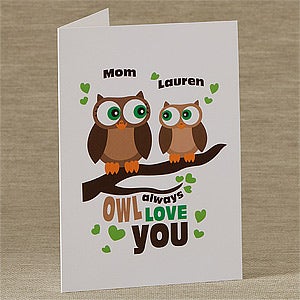 Card sold at Personalization Mall
Arrange a call schedule for favorite family members
Help ensure that someone they love is in touch.